A small art press, printing in the old-fashion tradition with wood-cut & letterpress type.
...........................
Carye Bye loves being a printmaker and artist. She hand-carves original wood block prints and pairs her art with movable type. She creates her own line of art postcards, calendars and other holiday novetites since 2002. She teaches letterpress workshops, creates custom printed or illustrated work for companies or individuals, and even brings her table-top presses by bicycle to on-site printing demos or workshops. She's also leads tours and creates publications about Portland over at
hiddenportland.com
---

---
Hand-colored woodblock prints since 2002
........................................
........................................
May 16:
Studio/Shop TOURS 2-5pm, SE Industrial District, FREE
Printdustrial Mixer 6-9pm @ IPRC FREE
May 17:
Various Workshops, All Day, Register online
C.C. Stern Type Foundry Open House, 11am-3pm, $5 Donation
May 18:
Swap & Sale & raffle drawing 11am-4pm @ IPRC, FREE entry
---

Red Bat Press in Stores

Red Bat Press is available throughout the Portland area in a variety of stores from bicycle to book shops. Please contact for list. Red Bat Press is also sold in stores in the West Coast and in the Midwest.
Do you want to carry Red Bat Press in your store? Contact to set up a wholesale account!
----------------------------
STORE HIGHLIGHT:
Museum of Contemporary Craft
is not only a first-rate museum, they also have a wonderful gallery store. Among the hand crafted artist made works you'll find Red Bat Press cards and art postcards. Threre is also a limited-edition tiny hand-printed book called "Six Bowls" available in the gallery store.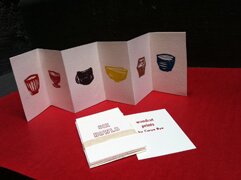 Portland,Oregon is open Tuesday – Saturday, 11 am–6 pm First Thursdays, 11 am–8 pm
---
Red Bat Press:
Mailing Address:
Portland, Ore. 97228 /
Studio Address:
Portland, Ore. 97214 /
Telephone:
Email:



© 2014 Red Bat Press
---
This website is maintained by Carye Bye
Email: